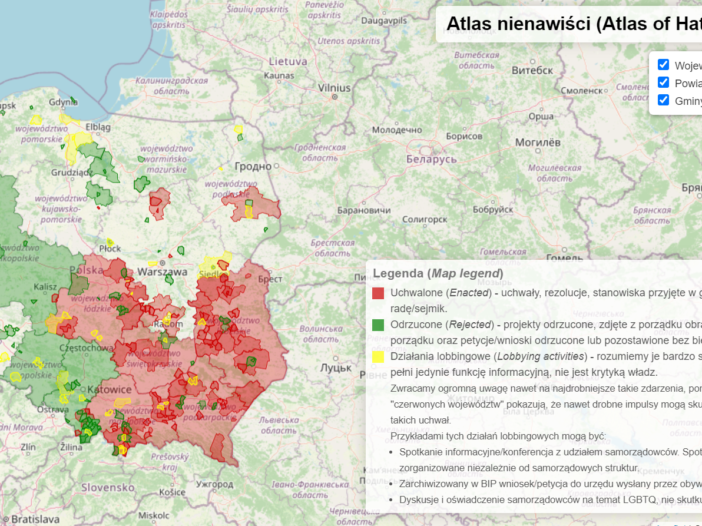 The Atlas of Hate is an interactive and constantly updated map of Poland, prepared by LGBTQ activists Jakub Gawron, Paweł Prenta, Paulina Pająk and Kamil Maczuga, where the municipalities, counties, and voivodeships whose local authorities have adopted, are working on adopting or have already rejected the "Anti-LGBT Declaration" are marked. The "Anti-LGBT Declaration" refers to a phenomenon of local governments proclaiming their territories "LGBT ideology-free zones." It is treated as a form of opposition to the "promotion and affirmation" of this "ideology," inter alia, by other local authorities in the country. The latter was exemplified by the fact of signing in February 2019 by the President of Warsaw, Rafał Trzaskowski, a declaration in support of respect for LGBTQ people and the announcement that LGBTQ issues would be included in sex education programs run in the capital city. The "Anti-LGBT Declarations" also enter into the broader context of years of attacks on LGBTQ communities by right-wing politicians (including the ruling camp), hierarchs of the Catholic Church or the conservative part of society. These initiatives have been supported by the ultraconservative Catholic Institute for Legal Culture Ordo Iuris which also encourages local governments to sign the "Charter of Family Rights," excluding non-heteronormative persons from the definition of family.
The Atlas of Hate was prepared for the purposes of a debate in the European Parliament on the situation of LGBTQ people in Poland which took place in November 2019 and was attended by its creators. Since then, the project has developed significantly, and its current version can be found here: atlasnienawisci.pl. In addition to this initiative, the activists are also following the progress of signature collection in Polish churches and parishes under the "Stop LGBT" bill which prohibits Marches of Equality (local forms of gay prides) in Poland. This map can be accessed here: http://bit.ly/3r56r6A.
In September 2020, the creators of the Atlas of Hate were nominated for the Sakharov Prize for Freedom of Thoughtgranted by the European Parliament. This is the second ever case of an organisation being nominated for opposing the authorities in a Member State of the EU. This initiative also received an important award in the Polish LGBTQ activist community, the Crown of Equality 2020, awarded by the Campaign Against Homophobia, the major LGBT organization in Poland. A few days ago, it received the Jerzy and Aleksandra Zubrzyccy award from the Polish-Australian Jerzy Boniecki Polcul Foundation, awarded to people working for the development of civil society. But, in 2020 the activists were also sued by several local governments supported by Ordo Iuris for infringement of personal rights.